Message From Dr. A. Nathan Young
Dear friends,
As summer approaches and we prepare for our annual summer camp, we are excited about yet another opportunity to impact our community by helping underprivileged children. We have already begun to make preparations for the children who we will be serving, and we are anxiously awaiting their arrival.
As you know, the camp meant a lot to my dad. His vision of providing opportunity and exposure to kids was important to him. And for over 30 years, the camp has been vital to the people in the community it impacted. That's why it's important to me that we honor his legacy, by continuing to provide this needed service!
This year, our plan is to provide an opportunity for teen students to receive a biblical foundation, practical life skills, financial literacy training, goal setting, and character building. We plan to host our camp for 6 weeks at Community Church of Covington, Louisiana. Specifically, the children will learn things like how to write a resume, proper dress and etiquette in various settings, college tours, and time management to name a few! This is in addition to the daily character lessons they will glean from the Bible, and the meals they will devour! I am excited about the impact that's going to happen in their lives!
We have decided to limit the number of students for this year to 30. This will give us the best opportunity to make an impact in the lives of these children with the resources that we believe we will have. The cost for six weeks of camp is $30,000. You will find a breakdown of the weekly cost below. I'd like to encourage you to sponsor a teen, event, or a need. Our intention is to expand our services in the coming years as resources allow us to. To help with this effort, simply click on the "DONATE" tab at the top right-hand or bottom corner of the page. Your gifts are tax deductible.
Thank You for taking time to read this letter, and I hope we can count on your support.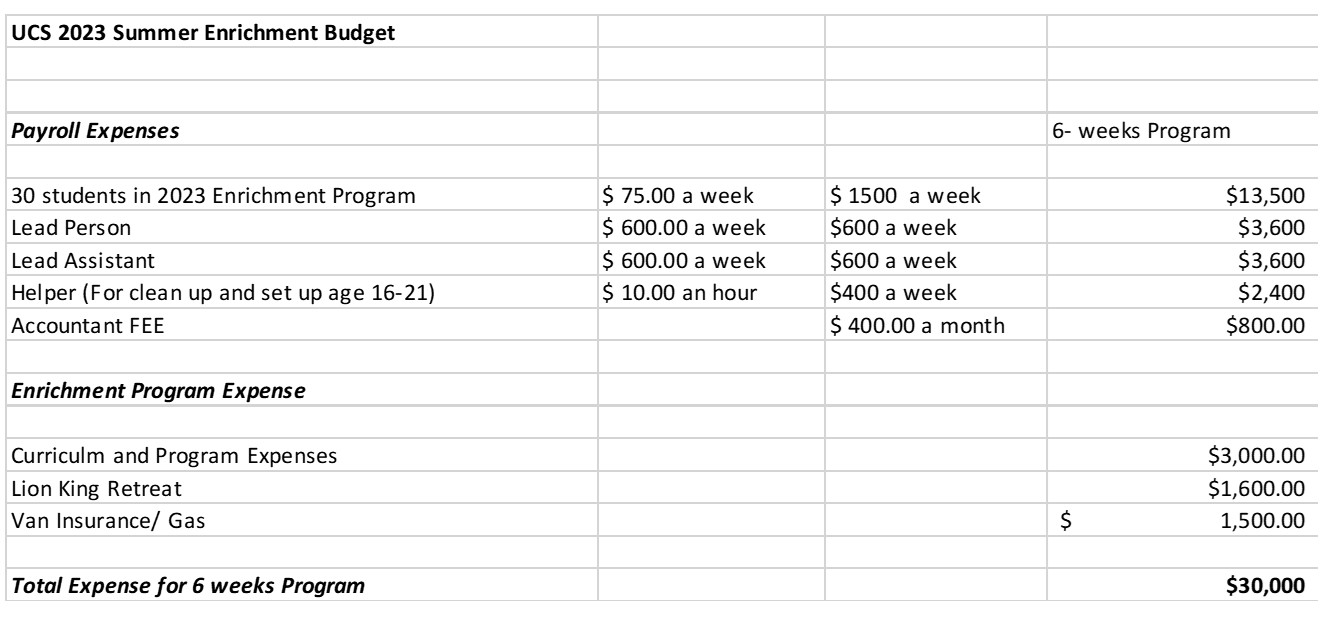 Make Checks payable to:
Upward Community Services
P.O. Box 4149
Covington, LA 70434
Who we are
Since 1989, Upward Community Services (UCS) has improved the lives of the working poor in St. Tammany and Washington parishes by giving them the opportunity and

exposure needed to break the cycle of poverty, crime, neglect and substance abuse.
Faith-based, non-denominational and unique in its mission, Upward Community Services is a nonprofit organization that strives to make your community a better, safer place to live.
We would love to hear from you.
Send us a message and get in touch.