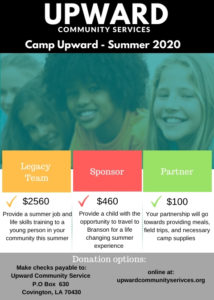 Make Checks payable to:
Upward Community Services
P.O. Box 630
Covington, LA 70434
Who we are
Since 1989, Upward Community Services (UCS) has improved the lives of the working poor in St. Tammany and Washington parishes by giving them the opportunity and

exposure needed to break the cycle of poverty, crime, neglect and substance abuse.
Faith-based, non-denominational and unique in its mission, Upward Community Services is a nonprofit organization that strives to make your community a better, safer place to live.
Summertime should be a fun, carefree time for all children, even those children of the working poor. For more than 15 years, Camp Upward has given any deserving child 5-14, a sanctuary from an unsupervised summer on the streets and a safe haven from gang and drug activity.
5 days a week of learning, laughing, praying and playing this is what summers are about. Our eight week program, engages children in summer recreational and intellectual activities designed to nurture them both physically an spiritually.
We would love to hear from you.
Send us a message and get in touch.